Woven labels
Woven labels refer to labels indicating logos or designs on textile texture patterns and are created by processing like cutting and folding of materials with texture patterns woven using a Jacquard loom.
GRAND HIGH DENSITY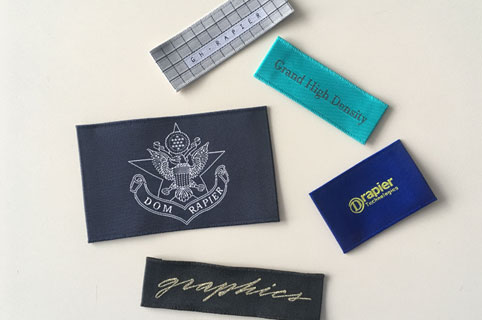 Brand labels go from expressions of the product Label to final product target quality and grade, as well as symbols of corporate quality...
GRAND HIGH DENSITY is a woven label capable of satisfying demands for more beautiful and clear items.
Conventional woven labels add clarity to expression by increasing weft thread density, but this method has its limits.
In order to create more beautiful and clear woven labels, we use a thin warp thread and accompany this with a thin weft thread for ultra-thin expressions.
Dom Soft Edge®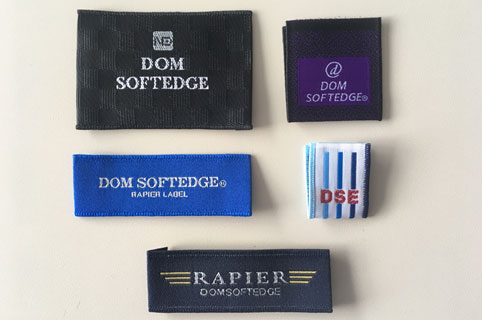 Conventional rapier woven label・woven tape sting clothing and delicate skin around the collar. Gentle-feel Dom Soft Edge® rapier woven label・woven tape. Which would you choose?
Dom Soft Edge® uses extremely delicate yarn sewing (width and thickness) to give the completed product no sense of discomfort and can be safely used for brand label and decorative logo tape on collars.
CATION DOMTEX®
CATION DOMTEX® uses cationic polyester processed yarn, so it completely eliminates the issue of sublimation discoloring that tends to occur when regular polyester yarn is dyed with disperse dye.