Printed labels
Printed labels are labels created by printing logos or designs using a silk-screen printer or similar on thin width material followed by processing such as cutting and folding.
DOM PRINT®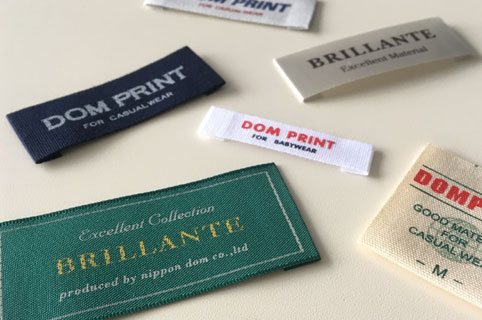 Printed labels are suitable for a wide range of materials and have beautiful expressiveness. It has great image reproducibility, color vividness, rich coloring, and other superior properties and allows for thin lines and small letters to be shown with clarity.
Our unique ink system has excellent fastness and solid color control. We can also respond to large lot orders with quick delivery.
Features of DOM PRINT®
We will select the optimal material for the application. With much material in reserve stock, we can respond quickly while keeping costs down.
We deliver on expressiveness and high quality for printed materials optimal to clothing functions.

Find out more about 「Print label material sample book」
Flexo printed labels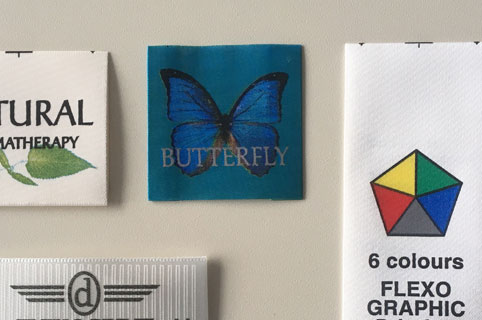 Flexographic printing refers to letterpress printing method using liquid ink and printing plate made of elastic material like resin or rubber.
Flexo printed labels are recommended for large-volume lots of T shirts and polo shirts collar labels, stuffed toys and towel labels, wrapping tape, and similar items.
The flexographic printer we introduced has high printing speed due to its rotary letterpress method and can quickly print large volumes of labels and tapes. It also uses little ink, providing a highly economical printing method. However, letterpress printing leaves less ink than screen printing, so it is not suited to printing on deeply colored materials or materials with grooves.
Duplex printing makes it possible to reduce costs and express a large amount of information in small spaces. For duplex printing, duplex satin tape is recommended.
Printing specifications
| | |
| --- | --- |
| Number of printable colors | Front 1 to 6 colors, back 1 to 2 colors are possible. |
| Printable colors | We can accommodate specified colors with color mixing. Please inquire for gold and silver. |
| Printable dimensions | Maximum width 150 mm/Maximum total length 300 mm |
| Recommended printing material | Polyester one-sided satin/polyester two-sided satin |
| Requested lots | 100,000 units or higher ※Please inquire. |
Print Label Material Guide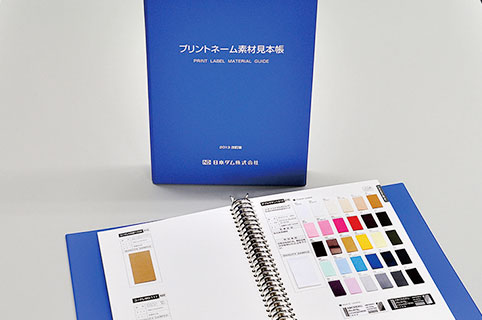 From a wide range of materials, we select the optimal ones as tools for creating printed labels.